An effective way to increase sales, enhance service, improve resource allocation and utilization, and reduce costs is to deploy an online locator application on your public-facing…

Quality data is the foundation for solid analysis and critical for data enhancement. The SpectrumTM Technology Platform from Pitney Bowes offers enterprise scalability and…

SpatialPoint Atlas makes deploying custom, web GIS applications simple. With Atlas, you get the proven scalability and reliability of the Microsoft Bing Maps platform combined with…

Powerful mapping software that makes it easy to visualize the relationships between business data and location. Analyze current data or strategize for site selection.

SpatialPoint Atlas makes deploying custom, web GIS applications simple. With Atlas, you get the proven scalability and reliability of the Microsoft Bing Maps platform combined with the…

Geocoding, the process of turning an address, intersection, city, state, province, landmark, etc. into something that can be put on a map (latitude/longitude coordinates), is used…
Esri Users: Obtain Your Bing Maps Key
For fast, easy service and uninterrupted use of Bing Maps in Esri software, order your Bing Maps key through SpatialPoint, a Microsoft Certified Silver Partner.
Why You Need a New Key
ArcGIS is Bing Maps ready, but complimentary use of Bing Maps in Esri software is being phased out. You now need to obtain your own Bing Maps key and input the key into your ArcGIS products. You can obtain your Bing Maps key from SpatialPoint. Once you input the new key, you will be able to use Bing Maps in your ArcGIS products.
Locating Mobile Callers for Improved Service and Efficiency
The ability to locate mobile customers and employees can enhance store locator, workforce management, roadside assistance, and other applications. The result is improved communication with customers or employees through interactive voice response (IVR) systems, human operator, or Web messaging.
Store Locator Location
54%
Taxi or Car Service Dispatch
49%
Online Locators: A Ten-Point Checklist
A SpatialPoint White Paper
Store, dealer and office locators have become essential applications on business and consumer Web sites. Retailers, hotels, banks, insurance companies, restaurants and other businesses use online locators to help drive customers and prospects to brick & mortar locations to obtain services, shop and buy.
In addition, online locators are excellent for promoting brand and increasing visibility for a business.
Download the Complete Online Locator White Paper
Customer frustration — unable to understand how to use the locator application or locator provides inaccurate locations.
Loss of business to competitors

— customers who can't find what they are looking for will turn elsewhere.

Lost opportunity to gain business intelligence — information obtained from the locator can be used to gain intelligence about customers, prospects, trade areas, market penetration and more, leading to better business decisions.

Quality data is the foundation for solid analysis and critical for data enhancement.  The SpectrumTM Technology Platform from Pitney Bowes offers enterprise scalability and centralized configuration and management to help you improve the quality, integration, accessibility and value of your information. It includes components, modules and applications that easily integrate with each other as well as your core CRM, ERP and legacy systems. Developing an accurate, single view of your customers allows you to improve customer relationships and create targeted offerings that generate better returns. These modular solutions enable organizations to optimize the performance of existing enterprise applica­tions, improve business processes and drive more intel­ligent decisions.
Learn More
SpatialPoint's Customer Online and Web Locators



ExxonMobil
SpatialPoint's Bing based locator for ExxonMobil in China includes an option to select a secondary administrative district to further refine the user search.

ExxonMobil
ExxonMobil Worldwide Global Distributor Locator is a geography-based worldwide locator versus a proximity based locator.

Marriott Hotels
Marriott's Hotel search integrates into a sophisticated eCommerce system, with SpatialPoint powering key elements of the underlying application logic.

metroPCS
The MetroPCS Locator leverages SpatialPoint to show customers and prospects the advantages of their wireless coverage network.

Shentel
The Shentel Locator leverages SpatialPoint to show customers and prospects the advantages of their wireless coverage network.

HoneyBaked Ham
The HoneyBaked Ham locator finds locations nationwide and switches to a mobile version on small devices.  Links directly to each store's page for ordering.


SpatialPoint's Bing Maps Demonstrations
Follow The Game
Follow the Game is an example application that combines the use of SQL 2012's spatial tools and SpatialPoint's Atlas tools. We are creating driving routes that pass through coverage polygons to determine which radio stations broadcast the Super Bowl along a trip or route.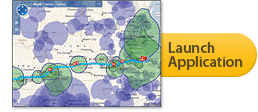 Fourth Coffee Locator
Click the "Launch Application" tab to open this application in a new window.

Mobile Fourth Coffee Locator
Click the "Launch Application" tab to open this application in a new window.

Thematic Mapping
For some applications, being able to shade ZIP codes by certain demographics is required.  Likewise, being able to select certain ZIP codes to aggregate the data is helpful.  This demo shows both for ZIP Codes and Counties. Click the "Launch Application" tab to open this application in a new window.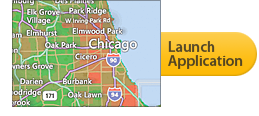 Analytics/Visualization
Multiple layers of data with various types of clustering, drill-down capabilities, etc. Demo coming.
QUICK LOOK:

Analytics/Visualization