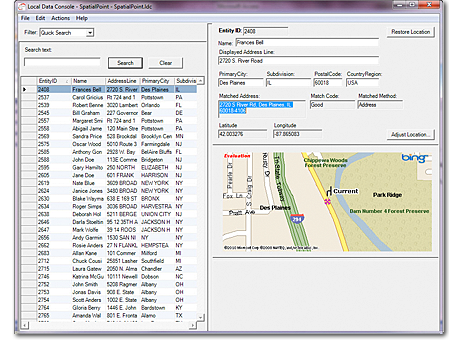 With Local Data Console, you can quickly manage your data and easily load the data into Bing Maps for use with your application.
Features:
Provides a process for updating location data into Bing Maps.
Uses data from various sources such as text files (.csv & .txt), Microsoft Excel (.xls), Microsoft Access databases (.mdb), and dBase databases (.dbf).
Connect to SQL Server and Oracle databases using OLE DB.
Works with multiple MapPoint Web Service Accounts and Data Sources.
Allows users to easily correct locations and move the point to their correct position.
Remembers previously corrected locations as new data is imported.
Remembers notes about locations.
Maintains a running "To-Do" list of items that require attention.
Allows users to use other location tools & pop-up results from other services.
Has 'Silent Mode' which is designed to work on a server:
Using Windows Scheduler, Silent Mode can be scheduled to run once per day, every few days, once per week, etc…
Provides e-mail feedback on the status of processing.
Thresholds can be set to control reporting.
With Bing Maps for Enterprise from Microsoft, and SpatialPoint custom programming and expertise, you can develop web based GIS applications and web mapping tools to empower your business.

Explore the capabilities below, and ask us how.
Work with our Bing Maps development team. Ensure the right solution that fits your business needs and IT environment
Add mapping to web-based applications. GIS-like functions with web service scalability and reliability
Discover features & functions of Bing Maps. Imagery, points, routing, API and more
Try Bing Maps applications. These demonstration applications and live customer locators display the power of Bing Maps