Web-based store locator software and driving direction software/service help people find your stores and business locations when they are ready to shop and buy. The smartest way to get more customers into your retail store, branch, franchise or other business location is to offer an online store locator on your Web site. Store locators are essential for any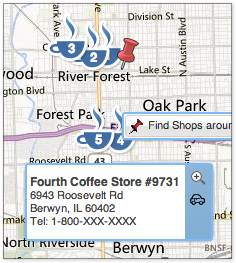 company with multiple business locations:
Show customers the most convenient location in their vicinity to purchase your products and services
Turn e-commerce browsers into in-store buyers
Reduce lost sales to customers by making your business the easiest one to find and visit
Capture demographic data allowing you to better understand and market to your customers
Get reports showing where customers are looking for you, allowing you to add new stores in optimal geographic locations
Our store locator is built on the Microsoft Bing Maps platform, offering the highest quality maps and accurate driving directions.
Where e-commerce and 'brick & mortar' commerce connect
Even if you sell products online, the majority of online shoppers still want to "touch and feel" the merchandise before they buy. That's why you need a locator on your Web site: show customers where to find you when they're ready to buy, and they'll return again and again.
What if you don't have your own stores but sell through other retail outlets?
If you sell through dealers and other channels and don't have your own store locations, it's more important than ever to have a locator on your Web site. Otherwise, how do customers know where they can find your brand of products and services?
See Some Of Our Customer Locators
Do you already have a store locator that's 'good enough'?
You may have a store locator already, but it may not be 'good enough.' The most common problem with store locators is that one or more of your locations are not displayed accurately on the map or are not found at all. Don't lose customers because you have a weak store locator! Find out about other potential issues by reading our white paper: "Online Locators: A Five-Point Checklist."
What does it mean to 'find the nearest' store?
Most store locators find the nearest store location using "as the crow flies" searches. This may suffice for most applications. In other cases, when barriers such as rivers or highways prevent straightforward travel, the nearest store may not be the geographically closest but the one that is the shortest or quickest driving distance.
Why a store locator from SpatialPoint?
Our store locator software is simply the industry's best. It fits into any Web environment, can handle any number of requests, and can be installed on your servers or hosted securely on our servers.
What enhancements do you offer?
You can make your store locator more robust and better serve your customers by adding speech recognition/IVR capability, driving directions, or a mobile locator to serve customers faster who call in on mobile phones.
Locating Mobile Callers for Improved Service and Efficiency

The ability to locate mobile customers and employees can enhance store locator, workforce management, roadside assistance, and other applications. T he result is improved communication with customers or employees through interactive voice response (IVR) systems, human operator, or Web messaging.